Does Subminimum Wage Exploit or Empower? Future of Pa. Disabled Workers Hangs in Balance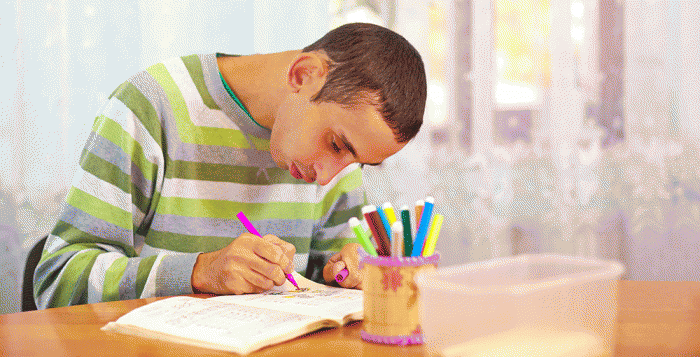 Erie Times — News
It was 9:30 a.m. and Eric Shull, wearing a face mask and a blue T-shirt, was focused on his work as he sat at a table at Vallonia Industries in Meadville.
One at a time, he tore small stickers — each hiding an anti-theft device inside — off a sheet and stuck them to a piece of cardboard. Each piece of cardboard will be used in the packaging of Channellock pliers, made a few blocks away in Meadville.
Shull and the other employees, most of whom have intellectual disabilities, are paid a piece rate based on how many stickers an average person could attach in an hour.
At a rate of 1.5 cents per sticker, Vallonia calculates a typical worker would earn more than $10 an hour for this job.
Some employees — Vallonia CEO Diana Walters calls them individuals — move quickly and can earn minimum wage, or even more than the $10 an hour assigned to the Channellock job.
For others who attach fewer stickers or pack a modest number of plastic straws into souvenir cups during a six-hour shift, wages could be just a couple of dollars an hour, or even less.
None of the wages are based on working at warp speed. Time studies factor in a fatigue factor, Walters said.
At Vallonia, which provides supportive employment services and training, the job is a chance to be part of the wheels of commerce, to feel like everyone else, Walters said.
"Payday is the best day in the world," she said. "They come up and say, 'Look what I did.' Some people do only a few pieces a day. But that's OK. They are safe and they are still learning."
Shull, like most of the nearly 100 clients at Vallonia, receives Social Security that covers most of his expenses. But the 63-year-old Crawford County man still looks forward to being paid. His top priority is buying treats and toys for his dog Daisy, he said.
But there is also an incentive for him to not make too much money. He risks losing his free medical benefits if he makes too much money, Walters said.
Aside from the work that takes place five days a week at the Vallonia building on West Poplar Street, Walters said the agency uses job coaches to place some of its clients in traditional jobs in the community.
Some are successful. Some are not. She mentions a Vallonia client who was placed in a job at a fast-food restaurant. She came back when she felt like she didn't fit in.
The right to pay less than the minimum wage comes from Section 14(c) of the Fair Labor Standards Act, which allows employers to pay less than the federal minimum wage to workers who have disabilities.
This system tells Americans with disabilities and their families that they are not worth the same as other Americans.
The 14(c) program has its critics, including President Joe Biden, who has called for the elimination of the subminimum wage as part of the $1.9 trillion American Rescue Plan.
There has been some support for the change on both sides of the political aisle.
Former Gov. Tom Ridge is among those who think it's time to eliminate the provision that allows people with disabilities to be paid less than the minimum wage.
Ridge, chairman of the National Organization on Disability, explained his position in a February opinion column for USA Today.
"This system tells Americans with disabilities and their families that they are not worth the same as other Americans, that society values them and their labor less," Ridge wrote.
Ridge, who represented Erie during six terms in the House of Representatives, continued: "In 1938, when the FLSA legislation was passed, it was assumed that a worker with a disability was less productive than a non-disabled worker. In retrospect, it was a flawed assumption.
"Nearly a century later, however, the law still contains Section 14(c). Now we know that workers with disabilities, given equal opportunity and appropriate tools or technologies, can perform as well as their non-disabled counterparts. This has been reaffirmed in the past year with so many of us working successfully from home, something people with disabilities have argued they could have been doing all along. "
Ridge is not alone.
In February 2019, Sen. Bob Casey, a Pennsylvania Democrat, introduced legislation that would "end subminimum wage certificates for individuals with disabilities to provide opportunities… to be competitively employed, taxpaying citizens and participate more fully in their communities."
Well-intentioned, but wrong?
Walters said she doesn't question the motives of those who would eliminate the 14(c) waiver, which enables Vallonia to provide jobs for people who might be unable to do those jobs at a normal pace in a typical setting.
She thinks their hearts are in the right place. But in many cases, she thinks opponents of the subminimum wage are simply wrong.
The reality is that many at Vallonia would not have jobs in the outside world, she said.
Some are nonverbal. Others have physical impairments that affect their dexterity. Some have mental health concerns. Some move slowly.
Vallonia serves as a facilitator, providing the professional staff who oversee the work and provide training. The nonprofit, which was closed for months during the COVID-19 pandemic, is paid with federal funds administered by the state Department of Welfare, which provides up to $33,000 a year of so-called waiver money for each person.
In exchange for transportation and professional staff — who facilitate or even complete work done by the individuals — Vallonia receives $2.27 for every 15 minutes spent with a client. Walters said that job coaching, by comparison, can cost more than $17 for a 15-minute period.
People with intellectual disabilities come in all shapes and sizes. While some work successfully in the community, many of Vallonia's clients would be unable to hold down jobs in a community setting, Walters said.
Tina Burke, a professional employee of Vallonia, shares that view.
Burke, who drives a transport van for clients, spent a recent morning working across the table from Nathan Kossef. Dexterity issues don't allow him to peel off stickers and attach them to the piece of cardboard. So Burke does the peeling and the sticking, allowing him to flip each card over and place them in a stack.
He's paid as if he was doing the job himself, something that's unlikely to happen if regulations required that he be paid the full minimum wage.
Burke said she's happy to facilitate, happy to be part of a process that earns Kosseff a check and a sense of satisfaction.
"The places we do work for, they are not going to pay our individuals $12 an hour. They are not going to do it," she said.
Higher wages can mean higher demands. Burke, the mother of two autistic sons, knows that what's possible for one might not be possible for another.
One of her sons went to college and is living and working in Pittsburgh.
Her other son, Kevin Burke, is smart, talented, a high school graduate and a great cook. But until recently, autism had stood in the way of his employment.
Before a grant was approved for him to go to Vallonia about a year ago, Burke tried for several years to find her son a job through a program that provided job coaching.
"It is very hard for individuals to get jobs in Crawford once you tell them that he has autism and a seizure disorder and that he does not drive," she said.
She continued: "It's hard to get them employment. He went on several interviews and they made him feel like they were going to hire him."
They never did.
He's happier now, she said.
"Kevin likes his money, but it's not about the money," Tina Burke said. "He has a place to go every day."
Kevin Burke, who was working on a recent Wednesday to assemble plastic inserts for a fire helmet, said he enjoys video games, cooking dinner for his parents — especially chili that's tasty but not too hot — and talking with them about his day.
It's the sort of ordinary day that is the goal at Vallonia and sheltered workshops across the country, Walters said.
"Our goal is to help every individual have an everyday life," she said.
For Tanner Hollabaugh, that means mixing a good bit of social banter with his work, flexing his muscles when a camera appears and breaking into a dramatic verse or two of opera.
For Gregory Cornwell, that everyday life is built on chatting with friends and a predictable routine. Cornwell, 57, has been coming to Vallonia for 27 years and is quick to share the exact day, month and year that he started.
"It's a nice place to work," he said.
Walters said many of their clients feel that way.
"One of our board members says this is the happiest place on Earth," she said.
However, not everyone buys into this concept of "an everyday life" at the expense of what they consider a fair wage. Many look forward to the elimination of the subminimum wage.
Walters, meanwhile, worries about the unintended consequences that could eliminate jobs at Vallonia and places like it. What others see as progress she sees as a threat to a place that brings purpose to the lives of her clients.
She doesn't expect the status quo to be disrupted overnight.
"But I think the threat is pretty serious," she said.