Child Welfare Placement Budget Documentation Training
The Office of Children, Youth and Families (OCYF) is pleased to announce that it is providing training of the child welfare placement services budget documentation review process for Private Providers and any interested County Children & Youth Agencies (CCYA). The purpose of the FY 2019–20 training is to assist Private Providers and CCYA in completing the budget documents for the purposes of determining maximum levels of expenditure eligible for Federal Title IV-E and State Act 148 financial participation. Training will be provided at three regional locations and will encompass information related to those entities with the following licensures:
55 PA Code Ch. 3680
55 PA Code Ch. 3700
55 PA Code Ch. 3800
55 PA Code Ch. 5310
55 PA Code Ch. 6400
55 PA Code Ch. 6500
We are grateful for the organizations which have kindly agreed to host the FY 2019–20 Child Welfare Placement Budget Documentation Training. Training in each region will be held at the following locations and dates from 9:00 am until 4:00 pm:
CENTRAL:    Monday February 4, 2019
Pennsylvania Child Welfare Training Program Center
403 East Winding Hill Rd.
Mechanicsburg, PA 17055
MAX. CAPACITY: 144
WESTERN:   Wednesday February 6, 2019
George Junior Republic in Pennsylvania
233 George Junior Road
Grove City, PA 16127
MAX. CAPACITY: 80
EASTERN:      Friday February 15, 2019
Glen Mills Schools
185 Glen Mills Road
Glen Mills, PA 19342
MAX. CAPACITY: 80
Lunch will be available for purchase (Cash Only)
Reservations will be accepted beginning Thursday January 10, 2019. Seats will be reserved on a first come-first served basis until capacity is reached at each training location; a maximum of two attendees from each entity may be permitted.
OCYF strongly encourages each participating entity to send one representative with fiscal expertise and another representative encompassing expertise in the program(s) services.
*** Please keep in mind when making reservations, it is imperative that those representatives attending for either Private Provider or CCYA are the contacts responsible for completing budget documents or engaged actively in the Title IV-E/Act 148 reviews, respectively. ***
To RSVP, please email via the OCYF Contracts Resource Account (ra-ocyfcontracts@pa.gov) as follows:
SUBJECT:
(1) CCYA or Private Provider Name,
(2) identify the training location and
(3) the number of attendees (1 or 2)
BODY:
(4) Name(s) of attendee(s),
(5) include functioning e-mail address(es),
(7) indicate if any special accommodations are needed.
Please see an example below: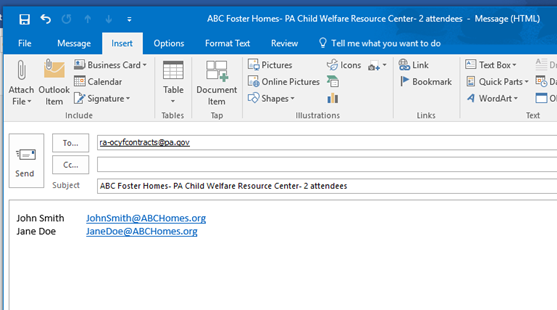 OCYF appreciates your valued efforts as they hope to continue this growing process toward consistency and overall quality each year.
Contact Robena Spangler, RCPA Children's Division Director, with questions.